Vision
Life City – The heart of Stockholm's new cluster
We have a land allocation with a development right of 32,000 m2 GFA in the heart of Hagastaden, in one of Sweden's best areas for public transport along the Essingeleden motorway and next to the new Karolinska Solna (NKS) Hospital.
Here, above the E4, we are planning to build Life City, an entire district for businesses, academia and society that will serve as a meeting place for people, discoveries and ideas. Life City will be the front of Hagastaden's life science cluster at Scandinavia's most visual location, where 200,000 people pass every day.
Construction is expected to start at the end of 2017 and will be completed in 2020.
Cooperation in focus

Our goal is to make Life City the obvious meeting place for all those who work in Hagastaden. Life City becomes a new scene and meeting place for enterprise, research and healthcare.
As you step out of your office space, you will still experience something that contributes to your business. We want to create environments where you meet other people. In addition to the "social areas" on the ground floor of the building, such as conference facilities, restaurants, cafes and shops, co-working will play a particularly important role in creating meetings and contributing to creativity. Inspiration is taken from modern startup hubs around the world, where new and innovative players can exchange ideas and develop close to each other.
Geographic location
Hagastaden is located halfway between Vasastaden in Stockholm and the Karolinska Hospital in Solna. The city district will link Stockholm to Solna through the new regional hospital, New Karolinska Solna (NKS). Hagastaden is one of Stockholm's largest and most important urban development projects.
By 2025, the area of Hagastaden between the city of Stockholm and Solna, will be built and developed into an entirely new neighbourhood with a mixture of apartments, workplaces, cultural attractions, green areas, world-leading research and highly specialised medical care.
Central location
E4, E20 and metro
Classical area
Historic buildings
Business district
Life science cluster
Life City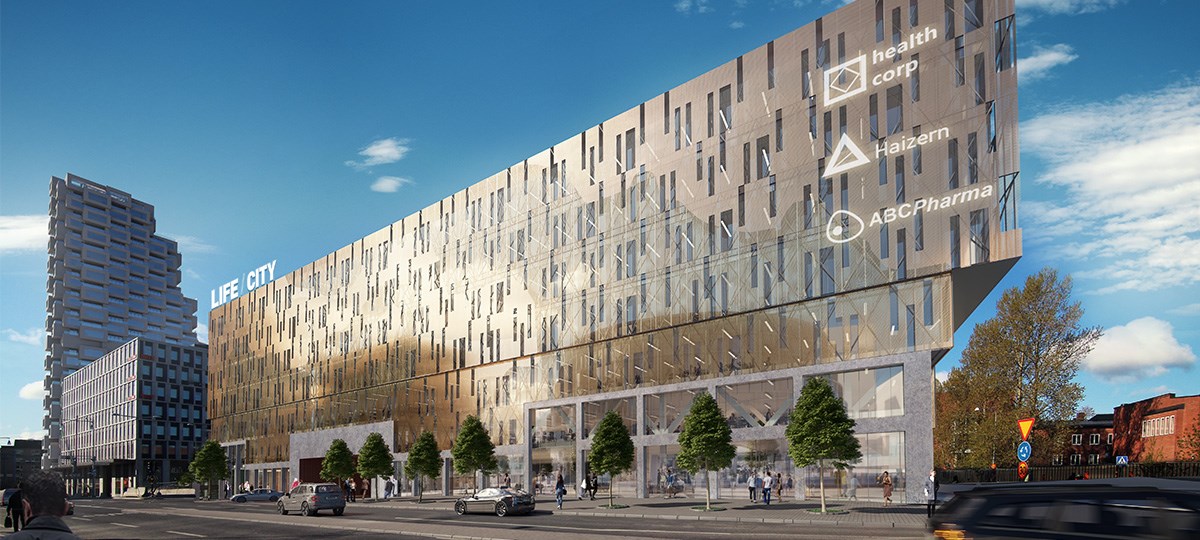 Life City in 3D
Want to see how our spectacular building Life City will look like before it's actually completed? Experience the future of Life City from a realistic 3D perspective. Walk the streets of Hagastaden, in the midst of the emerging life science cluster, at New Karolinska just next to Solnavägen.