Atrium Ljungberg in two minutes
We are no ordinary property company. Buildings are naturally the basis of our operations, but our heart actually lies with the environments that people want to and can stay, now and in the future. Our main focus is on office properties, but our environments also contain housing as well as cultural, service, retail and education facilities.
As of 30 September 2021
Liste on NASDAQ Stockholm since 1994
Number of properties: 67
Property value: SEK 49 billion
Rental income 2020: SEK 2,344 million
Net sales : SEK 2,839 million
Total letting area: 1,052,000 sqm
Letting rate: 91 per cent including project properties
Contracted annual rent: SEK 2.3 billion
Number of employees: 321
Largest owners: The Ljungberg family, the Stockholm Consumers Cooperative Socitety and the Holmström family
Our locations
Atrium Ljungberg operates in Swedens largest cities; Stockholm, Uppsala, Malmö and Gothenburg. We have retail hubs in Stockholm, Uppsala and Malmö. Our office properties are mainly located strong subsidiary markets in Stockholm, Malmö, Gothenburg and Uppsala. Our residential properties are integrated in Gränbystaden in Uppsala and in the Mobilia area of Malmö.

Our property holdings also include several major development rights which are an important part of our property development operations.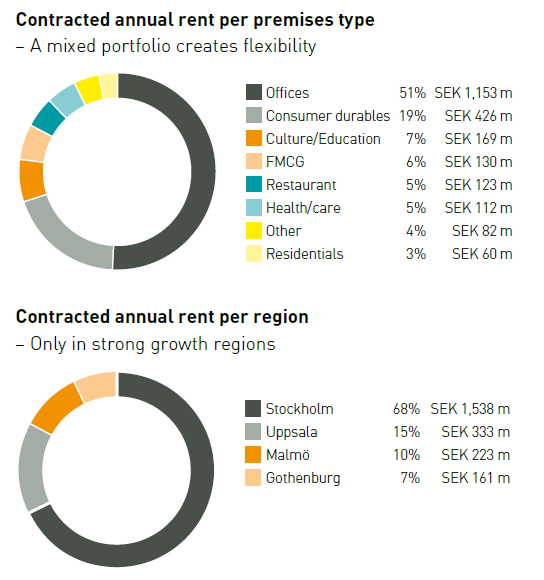 Key ratios
| | | | | |
| --- | --- | --- | --- | --- |
| SEK m | 2020 | 2019 | 2018 | 2017 |
| Rental income | 2,344 | 2,577 | 2,412 | 2,389 |
| Net sales | 2,839 | 2,811 | 2,629 | 2,563 |
| Profit/loss before changes in value | 1,234 | 1,234 | 1,214 | 1,180 |
| Profit after tax | 867 | 2,807 | 3,453 | 2,559 |
| Investments | 2,513 | 1,810 | 1,758 | 1,593 |
| Cash flow from operating activites | 1,246 | 1,359 | 1,260 | 1,166 |
| | | | | |
| --- | --- | --- | --- | --- |
| % | | | | |
| Letting rate | 91 | 94 | 95 | 95 |
| Equity ratio | 45.7 | 45.8 | 45.9 | 42.6 |
| Gearing ratio | 39.9 | 41.7 | 41.9 | 44.7 |
| Average interest at period end | 1.6 | 1.6 | 1.6 | 1.7 |
| Interest coverage ratio | 4.6 | 4.4 | 5.0 | 4.2 |
| | | | | |
| --- | --- | --- | --- | --- |
| SEK/ share | | | | |
| Earings per share | 6.69 | 21.59 | 26.15 | 19.21 |
| Profit/loss before changes in value less applicable nominal tax | 6.92 | 7.47 | | 6.91 |
| Dividend, proposed | 5.05 | 5.00 | 4.85 | 4.50 |
| Share prise as per 31 December 20XX | 172.80 | 226.00 | 152.00 | 130.30 |
| Shareholder's equity | 177.46 | 175.48 | 158.64 | 136.79 |